I came up with this simple recipe one day as I really love creamy pasta and thought I could come up with a pescetarian version of the classic carbonara which traditionally has bacon in it.
It's so quick and easy to make and I've made it for a few friends and family now who have all been complimentary – even my husband likes it, and he's not usually a fan of cream-based dishes!
I also alternate between adding the spinach and not as not everyone's keen on their greens, but for pregnant vegetarians like me, it's quite important to get some iron.
Vegetarian option: you could easily create a vegetarian version of this by not including the king prawns.
Ingredients:
350g spaghetti (fresh)
200g king prawns
300ml creme fraiche (half fat)
2 garlic cloves crushed
40g grated parmesan
15g chopped chives
50g fresh spinach
Optional extra: garlic bread
Serves: 2-3
Method
1. Heat a teaspoon of olive oil in a saucepan and add the chopped garlic. Cook for 30-60 seconds on a medium heat.
2. When the garlic had softened, turn the heat to low and add the creme fraiche and stir the garlic through, then add the grated parmesan and chopped chives. Season to taste with salt and pepper. Keep the sauce on a very low heat.
3. Bring a pan of water to the boil and add the fresh spaghetti, cooking for 4 minutes.
4. In a small frying pan, heat a teaspoon of olive oil on a medium heat and add the spinach, tossing for a couple of minutes until cooked. Then push the spinach to one side and add the prawns to the pan. If using raw prawns, cook for 3-4 minutes until both sides are pink.
5. Drain the pasta and add it to the sauce then stir it through to cover all of the pasta. Then add the spinach and prawns to the pasta.
6. Serve the pasta onto a plate and season with salt, pepper and sprinkle some grated parmesan on top.
Delicious!
If you've tried this recipe, I'd love to hear your thoughts in the comments below!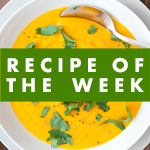 Pin It
Hannah set up Mummy Macaroni after becoming pregnant for the first time in 2012. With a background in digital marketing, Hannah is now using her knowledge of the online world to write this blog about her best interests - veggie/pescetarian food, parenthood and life in Warwickshire!
Latest posts by Hannah Stephen (see all)